Award season is in full swing and now that it is December most critics (including this one) has seen everything that will most likely be nominated during Hollywood's biggest night. There will be some surprises, but like most years the closer we get to Oscar night the more apparent certain front runners become. The following is a list of predictions for a handful of categories as well as an analysis on what will walk away with Oscar gold. I hope you enjoy and as always feel free to comment on with your own thoughts and predictions!
Best Animated Feature 
The Animated race is usually not an exciting one, especially when Disney is involved. Disney and Pixar put out great films, so great that there is usually very little competition, but this year we have a dark horse that quickly found its way to a front runner. "Spider-Man Into the Spider-Verse" is being hailed by critics as both the best superhero movie this year and best animated. In a year where "Black Panther" will be nominated it isn't too much of a stretch to see another superhero film achieve the same acclaim. Then there is the juggernaut that is "The Incredibles 2", yes anything from Pixar is practically handed the award, but previous years have shown us that animated sequels are not fan favorites. "Finding Dory" and "Monsters University" did not even see nominations. Its always a hard bet against Pixar, but one thing is for sure it will be a superhero showdown.
The Incredibles 2 (Front Runner)
Spider-Man Into the Spider-Verse (Competition)
Isle of Dogs
Ralph Breaks the Internet
Mirai of the Future
Best Director
Bradley Cooper will walk away with several statues, but Best Director will not be one of them. No this belongs to Alfonso Cuaron for his masterful work on Roma. Cuaron has not made a feature film since 2013's Gravity which he also won Best Director for, and it is clear that the man has bared his soul into Roma. What will be disappointing with this category is that it will probably be male dominated. The other nominees will all be powerhouses, but it would have been nice to see some female directors such as Chloe Zhao for The Rider or Marielle Heller for Can You Ever Forgive Me?
Alfonso Cuaron (Front Runner) 
Bradley Cooper
Yorgos Lanthimos
Spike Lee
Barry Jenkins
Best Adapted Screenplay
Last year "Logan" broke the comic book curse and "Black Panther" will continue the success with a nominee for writers Ryan Coogler and Joe Robert Cole. It would be crazy for a movie about a real life writer to not get a nominee in a category that honors writers, so expect "Can You Ever Forgive Me?" to get a slot, but all bets lead to "If Beale Street Could Talk." Adapted from the James Baldwin novel by Barry Jenkins it is the clearest front runner with only "BlackKklansman" trailing slowly behind it. "BlackKklansman" has four writers and this often does not sit well with voters, and one thing is for sure every word Jenkins writes soars off the screen and sticks with you for weeks later. It will be nice to see Jenkins pick up a second win in the same category.
If Beale Street Could Talk
BlackKklansman
Can You Ever Forgive Me?
A Star Is Born
Black Panther
Best Original Screenplay
Two things are certain. Paul Schrader will get his first Oscar nomination for "First Reformed", (the man wrote "Taxi Driver", but this will be his first nomination…insane I know). The other certainty is that millennial comedian Bo Burnham will now add Oscar nominee to his resume. "Eighth Grade" will just miss the cut in other categories such as Director and Best Picture, but the Original Screenplay category has always been a place for first time filmmakers to shine as seen with Jordan Peele's win last year with "Get Out." But even with all this the winner will instead be Alfonso Cuaron's "Roma", a film that gave us a story that many Americans are unfamiliar with and contained too many tearjerkers to count. While 'Green Book" is a well attempt at a feel good family film, it is "Roma" that is a hard and truthful film about family.
Roma (Front Runner)
First Reformed (Competition) 
The Favourite
Green Book
Eighth Grade (Dark Horse)
Best Supporting Actress
Up until a week ago Regina King had this one. "If Beale Street Could Talk" is already one of the most beautiful looking films this year but add Regina King's fierce portrayal of Sharon Rivers a mother who will never give up on her children, and you are given a masterpiece. King is adored by her peers as seen in her back to back Emmy wins. But now we must consider "Vice" and the powerhouse that is Amy Adams. After 5 nominations (and a snub for Arrival that still hurts) Adams is more than due for a win. Playing real life characters is normally a guarantee win for Oscar votes, but when you take on someone as controversial as Lynne Cheney there is bound to be push back. Adams is King's biggest competition, but "Vice" has greatly divided critics and might cause Adams to go empty handed once again.
Regina King (Front Runner)
Amy Adams (Competition)
Emma Stone
Rachel Weisz
Nicole Kidman
Best Supporting Actor
The Best Supporting Actor race is usually one where a front runner clearly stands out. As of now Sam Elliot stands out if only a little than his peers. His role of Bobby Maine in "A Star Is Born" will most likely sit better with older Academy voters than Richard E. Grant's Jack Hock in "Can You Ever Forgive Me?" The biggest threat will be Mahershala Ali as Dr. Don Shirley in Green Book. Many (including this critic) have claimed the role as being an outdated and historically inaccurate portrayal of African Americans, but as seen from previous years this matters little to Academy members especially when looking back at similar films such as The Help and Driving Miss Daisy both which saw great Oscar success. Ali has won two years ago for "Moonlight" but a second win could be possible.
Sam Elliot (Front Runner)
Richard E. Grant
Mahershala Ali
Timothee Chalamet
Adam Driver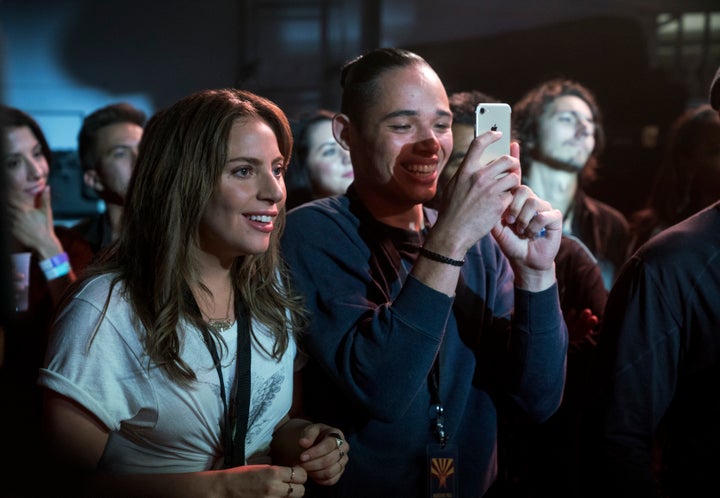 Best Actress
This one is a peculiar race because best actress awards this year have been given to the likes of Toni Collette for Hereditary and Regina Hall for Support the Girls, but it is unlikely that either will even be nominated. This is just the way the Academy is, the award shows to come before it can never be a place to look at when betting on the Oscars. No this will be Lady Gaga's year. The Academy will swoon over seeing both her and Cooper walk away with gold statues and her stellar performance as an up and coming singer is pure Hollywood gold. With Gaga taking the win it will be interesting to see who else gets a nominee. Her biggest competition comes from Glen Close in "The Wife" a nominee choice that will confuse the general public since the film while critically acclaimed has not seen a wide release and the story of an aging couple is not always a big selling point for younger audiences that flocked to A Star Is Born.  This is also the one race with a huge dark horse that could throw off the rest of the nominees. Emily Blunt's portrayal of Mary Poppins has been hailed by critics and talk of her being nominated was at first tossed aside but now she is quickly finding her way back into the discussion.
Lady Gaga- A Star is Born (Front Runner)
Glen Close- The Wife (Biggest Competition )
Olivia Coleman -The Favourite
Melissa McCarthy- Can You Ever Forgive Me?
Yalitza Aparicio- Roma
Emily Blunt (Dark Horse Nominee) 
Best Actor 
There are a few ways to look at this one. One way is that Christian Bale will be honored for his extreme transformation into Dick Cheney. Another way is that Ethan Hawke has already won several prominent awards for his haunting performance in First Reformed. But this critic believes the safest way to look at this is that the Academy once again adores A Star Is Born and will not stop until both its leads walk away with gold. Cooper has been nominated three times before for his acting, but the Academy was not ready for how much they would love his portrayal of the washed up Jackson Maine.
Bradley Cooper-A Star is Born (Front Runner) 
Ethan Hawke- First Reformed
Christian Bale -Vice
Viggo Mortensen- Green Book
Rami Malek- Bohemian Rhapsody
Best Picture
Okay here we go, the big one. One certainty is that there will be ten pictures nominated for best picture. The first time since 2011 when "The Artist" won, which is coincidental because like "The Artist" this year's winner will most likely be another film about show business. My money is on "A Star Is Born," but before we get into that lets look at the competition.
There are a few interesting things to point out, one of them is that "First Man" which once appeared to be the major front runner has now found itself slipping due to poor box office reception (which does matter) and voters who find themselves dispassionate towards lead character Neil Armstrong (something that will also cost Gosling the actor nominee). It should be noted that "Green Book" continues to rise winning the National Board of Review (although the NBR winner rarely goes on to win Best Picture) but continues to sell itself as the much needed feel good film of the year. Controversy and historical accuracy aside this is a great way to sell your film and goes hand and hand with older voters. It will be nice to see "Black Panther" on the list, but the real surprise will come in the form of Disney's "Mary Poppins Returns." Critic and SAG screeners have already happened and the opinions seem to be unanimous, it is "practically perfect in every way." This bodes trouble for movies such as "Can You Ever Forgive Me?" and long shots which include "Eighth Grade," "First Reformed" and "Crazy Rich Asians." All in all expect to see "Mary Poppins Returns" grabbing the final nominee.
But back to the big winner, there is no film this year that feels like the old Hollywood type of movies quite like "A Star Is Born." It has all the check marks. Retelling of a classic story? Check. Explosive song numbers? Check check. It also creates gives birth to a new film star in Lady Gaga. Yes Lady Gaga's success was born years ago, but to film critics seeing her as new comer Ally is something all too exciting for them to pass up. The biggest competition comes from "Roma," but artsier films usually don't win especially against the fan favorite movies like Bradley Cooper's directorial debut. "Green Book" will do everything in its power to sneak in there, but younger voters will most likely not have it causing them to split the vote between the other two. "The Favourite" will have great success with its nominations but will see more luck in the costume and production design category. And while everyone loves to yell at the Oscars for being too political it will be ironic to see "Vice" go home empty handed. The film which has had split reactions will get a nominee for sure, but will be overlooked by the other options. Only time will tell, but this critic is calling it as the year of "A Star Is Born."
A Star is Born (Front Runner)
Roma (Competition) 
Green Book
The Favourite
If Beale Street Could Talk
BlackKklansman
Black Panther
Vice
First Man
Mary Poppins Returns (Dark Horse)