Friends really do make everything better. When the world shut down back in March of 2020 many of us truly realized what it meant to miss your friends. Sure, we have plenty of ways to communicate with people without physically being with them, but there is nothing better than hanging out with old friends. Many of us like to say some of our friends never grow up, but for the Jackass crew this notion will always be taken to the extreme. For over 22 years this team of misfits have shown us some of the most extreme and vulgar stunts their awesome and deranged minds can think of. So, when we arrive at a time when many of us are finally getting back together with lifelong friends, it only makes sense that the Jackass crew comes along with us. Thus, here we are, twelve years after their last film and four release date delays later, the Jackass team is back to show us that you might get older, but when you're with good friends you never truly mature.
If you are unfamiliar with the Jackass franchise, then not only did you miss MTV's last great age, but you are also in for quite the shock. The show originally launched on MTV back in 2000 and made some very un-Hollywood like stars very famous. Johnny Knoxville, Steve-O and Wee Man (born Jason Acuna) all became cultural icons performing anything from being hit by a charging bull to catching fish with your groin area. These antics not only made them famous, but it also gave them a career that we still flock to see today. Jackass Forever may start with it's strangest (and probably most unnecessary) stunt, but it doesn't' take long to remind you why we keep coming back to these lunatics. The answer is simple, they too are our friends.
The original team of Knoxville (sporting some excellent silver hair) is back, along with Steve-O, Wee-Man, Chris Pontius, Preston Lacy, Dave England and Danger Ehren. Also with them is original director Jeff Tremaine and producer Spike Jonze (yes that Spike Jonze) both of them helmed the previous three films and get more screen time than usual making for some hilarious behind the scenes content. The gang has clearly aged, and their clothes seem to have gotten more expensive but when Knoxville delivers his signature hyena like cackle you are instantly brought back 20 years. Thankfully these guys do not have a death wish and they openly acknowledge they can't do every stunt like they used to. Enter a ragtag team of new members willingly up to the challenge of having their bodies physically destroyed. For all of us who grew up watching Jackass and said to their friends "we should do that" (despite the opening warning) well this team is a love letter to us. A team that consists of late twenty year old's to early 30's here we have newcomers such as, Zach Holmes, Eric Manaka, Jasper Dolphin, Rachel Wolfson (the team's first female member) and Sean McInerney who goes by the name of "Poopies" because why not. This new team isn't here to take over for the original gang in a pass the mantle sort of way. Instead, they are here to join in as equals which means they have to earn their due. Their stunts involve everything from body surfing while covered in lube, letting a scorpion bite your lips and all the way to the inevitable puke gag with a new and much larger twist. This new team is a blast to watch and their interactions with the original members is full of admiration. Even when a new cast member is being interviewed and says " it doesn't matter what I say it will just end up on the cutting floor" well the original team not only puts it in they give that cast member an extensive amount of screen time because here we are all friends, and everyone deserves the same love.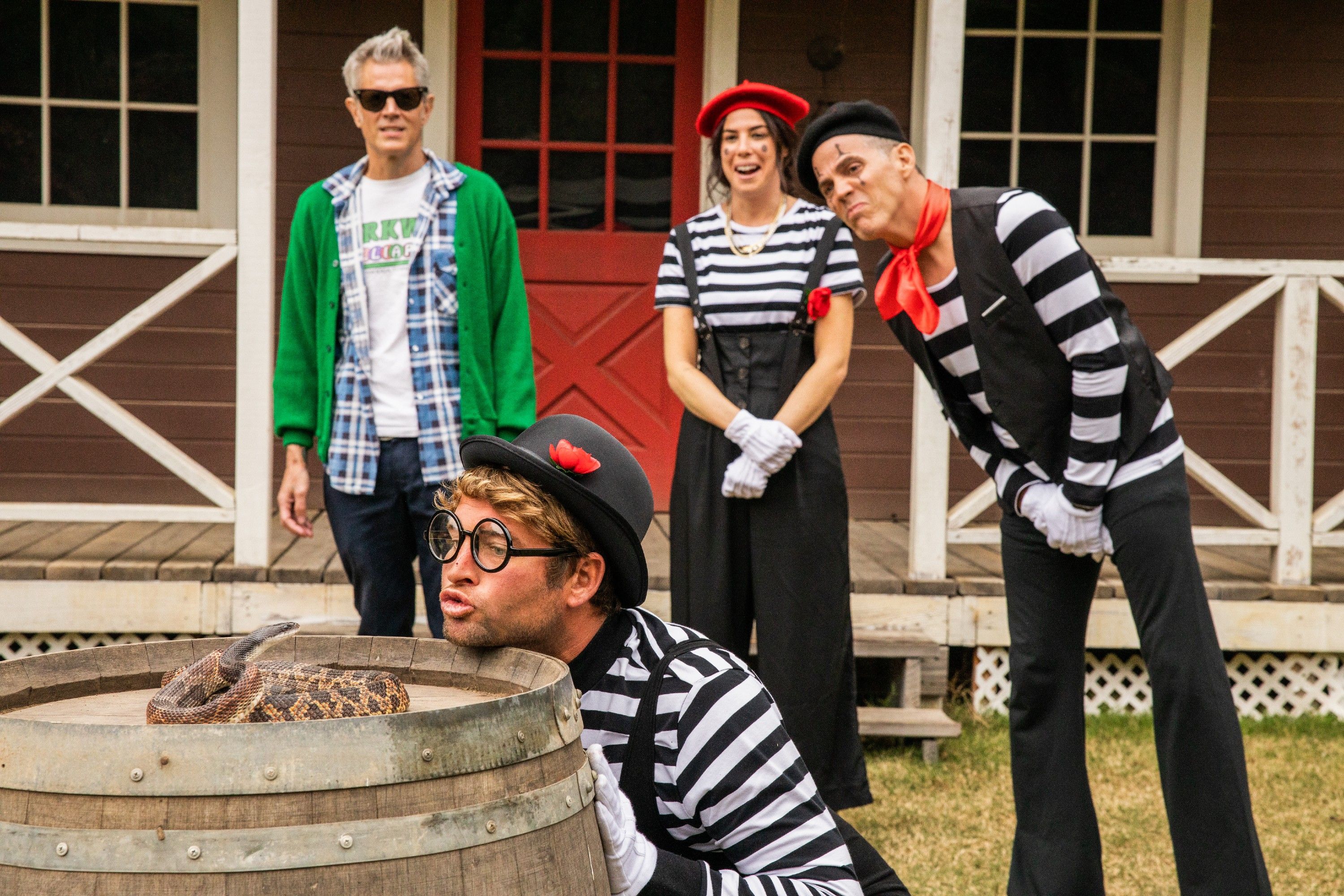 Even as the stunts gets bigger and more perverse (seriously if you thought Euphoria had a lot of male genitalia think again) the film never maneuvers away from what has made this franchise strong after all these years. There are the simple gags of someone getting hurt from a stunt followed by someone immediately slapping them in the face just for that extra laugh, and there is definitely targeted members who have been victims of the same pranks throughout its run. Anyone familiar with the treatment of Danger Ehren will be dying of laughter during a montage of stunts involving the infamous "cup challenge." Only this time they have brought some very special guests that involve UFC fighter Francis Ngannou, Olympian Danielle O' Toole and NJ Devils defenseman P.K Subban. It is one of the film's biggest laughs not just because of who they got to bring in, but the reality of "yes we are still doing this, but you're also still laughing your ass off." Ehren may take some of the worst hits, but he like the rest of the crew knows it's all with love and that this is the family he has chosen. It is a family who loves one another and through it all chooses to stay together. Mileage may vary for audience members when it comes to their antics, but it is darn near impossible to watch this group of friends and not immediately want to be amongst your own. Friendship is a funny thing, it is that beautiful combination of helping one another when we are down, but also throwing in a slap of the face or two. It is to be able to look at your lifelong friends and say with full sincerity, "I love you and I will always be there for you,…now let's go do something stupid."
B+
Jackass Forever is in theaters February 4